Category: Selling A Home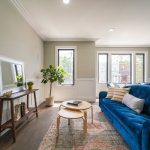 The doors are locked, but the houses are open. And surprisingly, the lines are long. The sign on the door tells viewers to wait outside at a safe distance, and. . .
Sell all year long with these tips and tricks from our staging gurus Walking through the front door of any property should bring emotions – good or bad. The difference. . .